Did you receive your invitation? Enter your user name and password below to get personalized directions and to track your RSVP.


Lost your user name or password? Please email wedding@imagineblue.com.




Several MIT and Brandeis folks attended our wedding. Standing, from left: Henning Colsman-Freyberger (MIT '96), Erik Balsley (MIT '96), Raquel Lieberman (MIT '98), Amy Schwartz (MIT '97), Deb Houben (MIT MPC 2001-present), Rajiv Manglani (MIT '96, Stuy '92), Miriam (Menasha) Manglani (Brandeis '98), Candace (Nycz) Wallender, Austin Wallender (MIT CECI 1993-1995). Bottom row: Grace Wung (UMass '98), Rachael Max (Brandeis '98).

Not pictured: Allen Pollack (MIT '96), David Friedman (MIT '96), Malka (Jamie Rackmill) Friedman (MIT '99), Regina Volynsky (Brandeis '97), Jessica Temkin (Brandeis '98), Susan Furmanski (Stuy '94), Yusheng (Joe) Liao (Stuy '92), Isabel Pipolo (Stuy '91), Gabria Fischer (Stuy '91), Jeffrey Houben (Stuy '63).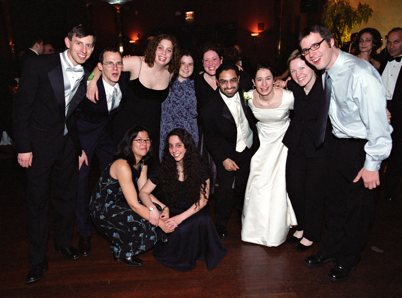 Contact Information
Please email wedding@imagineblue.com with your questions and comments regarding the wedding and the web site. This email address forwards to both Miriam and Rajiv. Personal correspondence can be directed to: rajiv@alum.mit.edu, miriam@imagineblue.com