We have reserved a block of rooms at a discounted rate of $89 (plus tax) per night for the nights of March 16 and March 17 at the Executive Inn at Woodbury. Rooms come with either one king sized bed or two double beds. Each room includes a television with cable and Pay-Per-View channels, and refrigerator. To receive the discounted rate call Executive Inn reservations at +1 888 544-6835 and let them know the reservation is for the "Menasha/Manglani Wedding Party". In order to get the special rate, you must register by phone; you cannot register online.

The Executive Inn at Woodbury is located at 8030 Jericho Turnpike, Woodbury, NY 11797; +1 516 921-8500. The hotel is a 5 minute drive or a 15 minute walk to The Woodbury Jewish Center. To drive to the hotel from the expressways, follow the "After exiting" directions below. However, instead of turning left onto South Woods Road, continue east-bound on Jerico Turnpike. The hotel will be on the right side.

If The Executing Inn is full, you might try the Fairfield Inn in Syosset. Rates are $99 (property promotion rate) for rooms with a king or queen size bed, or a room with 2 double beds. We do not have a special wedding rate at this hotel.

The Fairfield Inn is located at 24 Oak Drive at Jericho Turnpike, Syosset, NY 11791; +1 516 921-1111. The hotel is a 15 minute drive to The Woodbury Jewish Center.

Shabbat Vayikra
There are no accommodations for Shabbat-observant guests at the hotels in the area. If you need a place to stay for the Shabbat before the wedding, please contact us.

Area Attractions
The area surrounding The Woodbury Jewish Center and The Executive Inn at Woodbury has several sites to see.

The Vanderbilt Museum and Planetarium has a large collection of mounted animals and marine specimens know as the "hall of fishes" and a planetarium.

Caumsett State Historic Park was originally the estate of Marshall Field III. Attractions include scuba diving, walking, jogging, bird watching, and fishing.

Former President Teddy Roosevelt's house is located in Sagamore Hill National Historic Park. The study in the house is full of stuffed animals that TR caught.

Driving to The Woodbury Jewish Center
200 South Woods Road, Woodbury, NY, +1 516 364-2000

Please allow a full hour to drive from central Queens.

East bound from Brooklyn, Queens and Manhattan
Northern Parkway to Exit 36b (Route 135 North)
or Long Island Expressway (I-495 East) to Exit 44n
or Southern Parkway to Exit 28a North

West bound from eastern Long Island
Northern Parkway to Exit 37a to 495 West to Exit 44
or Long Island Expressway (I-495 West) to Exit 44 (Route 135 North)
or Southern Parkway to Exit 28a North

After exiting
Follow Seaford-Oyster Bay Expressway (Route 135) north bound to Exit 14e (Route 25, Jericho Turnpike).

Follow Jericho Turnpike east bound 3 lights to South Woods Road. Turn left on to South Woods Road and continue to the second traffic light. The Woodbury Jewish Center will be on your right.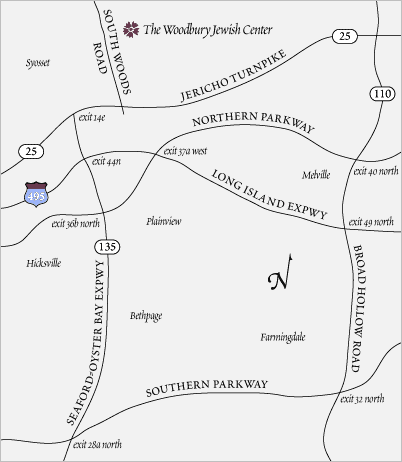 Driving from Boston
From the Boston area, take the Mass Pike (I-90) west bound to Exit 9, I-84. Follow I-84 South towards Hartford. Before Hartford, exit left onto I-91 to New York City. I-91 ends into I-95. Follow I-95 South to New York. Once in the Bronx, take Exit 7A (left exit) to the Throgs Neck Bridge. Follow signs for I-695 South to I-295 South (Clearview Expressway). Take the Clearview Expressway to the Long Island Expressway going east bound (I-495 East). Take the Long Island Expressway to Exit 44n. Continue to follow "After exiting" directions above.
Please allow four to five hours to drive from Boston.
Via Public Transportation
Take the Long Island Railroad from Penn Station in Manhattan to Syosset (see schedule; be sure to click on 'To Long Island - Weekends'). We recommended the 1:39 pm train leaving Penn Station arriving in Syosset at 2:34 pm. The Woodbury Jewish Center is a 15 minute taxi ride from the station. The round trip, off-peak fare for the train is $9.50.
Other Ways to Get to Our Wedding
Several of our guests are coming from the Boston area, as well as Manhattan. If you can provide a ride or would like to be setup with one, please email us. We are also looking into arranging rides from the Syosset Long Island Railroad station.